While there seems to be an abundance of information, resources, programs, and services readily available for children with disabilities or special needs, it can be more difficult to find help for your special needs child once they become an adult. When a person begins to age out of the public education system and many of the services they have been receiving come to a stop, they are often looking towards an uncertain future, wondering if they will be able to attend college, afford learning materials, or obtain a job.
To help relieve some of the stress this can cause, we have compiled a list of services and opportunities that are available for free to adults with disabilities or special needs.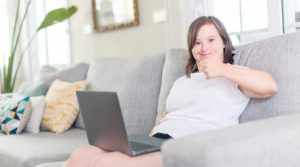 1. Scholarships
There are many scholarships out there for students with disabilities or special needs. Qualifying disabilities can include hearing and visual impairments, intellectual and learning disabilities, and physical disabilities. To find out what is available, meet with a university financial aid counselor. There are also online resources to help you get started.
2. Grants
There are several types of grants and benefits available to adults with disabilities if you know where to look. These grants can help pay for education, travel, medical expenses, and more. Although the process of applying for grants can be confusing, there are free resources that will help you through the process of selecting a granting agency and making your case in writing.
3. Financial planning
Financial planning can be extremely important for adults with disabilities or special needs. As a parent, you want to ensure that your child will be taken care of throughout their life – even once you're gone – and financial planning can help give you some peace of mind in that area. One option to look into is an ABLE account, which is a free tax-advantaged savings account for individuals with disabilities and their families that allows you to save money in a way that will not go against SSI/SSDI.
4. Job Training
Although not everyone with special needs or a disability is able to work, many employers are happy to hire adults with physical and intellectual disabilities and there are many jobs that these individuals are usually well-suited for. It can be an intimidating process, but there are services which help with job placement and training. The Social Security Administration offers a job training program called Ticket to Work, which provides free employment support services to disabled adults, and there are other resources that offer supported employment to individuals with special needs.
5. Medical and Health Products
Individuals with disabilities could receive medical equipment and health products for free, such as blood pressure monitors, shower benches, vitamins and supplements, allergy remedies, over-the-counter pain relievers, dental care products, and first aid supplies. Contact your health insurance company to find out if they offer an over-the-counter benefit for members who are on SSI or SSDI.
6. Free Passes and Discounts
Adults with disabilities can receive free passes to US National Parks and discounted passes to state parks. Disney offers Disability Access Services cards, and Amtrak provides discounts to disabled individuals and their travel companion. Many places, such as movie theaters, sporting events, theme parks, museums, zoos, and aquariums offer discounted tickets to individuals with disabilities or special needs, as well. Remember, it never hurts to ask! Even utility companies may offer reduced bills when there is a person with a disability living in the home. Don't forget to also make sure to take advantage of all of the tax deductions and credits available to disabled individuals.
7. Books
"Talking Books" is a free service from the Library of Congress that provides audiobooks and audio equipment to individuals who are visually impaired or have a disability that prevents them from using regular print materials. Through this program, The National Library Service for the Blind and Physically Handicapped produces audiobooks and magazines for children and adults whose physical disabilities or visual impairments makes them unable to hold a book, turn the pages, or read regular print. The National Federation of the Blind also offers a free online reading service for books, magazines, and newspapers.
8. Technology
Adults with a disability or special needs can receive free technology devices and services that not only save them money but make their lives easier. Most states offer free amplified telephones to adults with hearing disabilities or impairments. A government program allows individuals living on SSI or SSDI income to receive a free smartphone with 1 GB of data, 1000 monthly minutes, and unlimited texting. In some cities, individuals who are living on SSI or SSDI income can receive free or discounted internet service, as well as discounted technology devices. Click here to see what is available in your area.
9. Home Repairs and Appliances
As part of the home weatherization program through the United States Department of Energy, families with one or more members with a disability could qualify for free home repairs and household appliances to make the home more energy efficient, as well as home modifications including wheelchair ramps and handrails. To apply, determine eligibility, and find out how to get help with energy bills, click here.